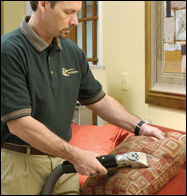 Dirt and dust on countertops and wood floors is easily seen and easily removed. However, dirt and dust can also settle in between the fibers of your carpet or rug. If left alone, the jagged edges of the dirt will rub against the fibers and basically break them strand by strand. This kind of damage is difficult to repair and will eventually require complete replacement of the carpet or rug.
CARPET CLEANING NJ can deep clean your carpet or rug, flushing out the dirt and soil stuck between the fibers. Using only natural, non-toxic cleaning agents, we will leave your carpet looking and smelling great. Don't let your carpet get to the point of replacement.
Call us today for a Free Estimate call us at: 877-899-0401
We offer the following Carpet Cleaning Services:
Wall to Wall Carpet Cleaning
Steam Cleaning
Hot Water Extraction
Shampoo Cleaning
Bonnet Cleaning
Dry Compound Cleaning
Carpet Mold & Mildew Removal
Carpet Pet Stain and Odor Removal
Carpet Repair & Re-stretching
Carpeted Stairs & Hallways
No Harsh Chemicals Carpet Cleaning
Children & Pet Safe Carpet Cleaning
Hypo-Allergenic Carpet Cleaning
Fast Drying Carpet Cleaning
Scotchguard©
---
CCARPET CLEANING NJ professionals are trained in several cleaning methods in order to provide you with a service that best fits your needs. Remember, having your carpets cleaned professionally once every year extends the lifetime of your carpet.


Our Carpet Cleaning Methods:

Hot Water Extraction or Steam Cleaning
Carpet Shampooing
Combination of Hot Water Extraction and Shampoo
Foams
Bonnet Cleaning
Absorbent Dry Compound
In-Plant Carpet Cleaning

Carpet Cleaning with Hot Water Extraction or 'Steam' Cleaning
Hot water extraction, or steam cleaning, utilizes a hot, pressurized cleaning solution which is sprayed onto your carpets to flush out the dirt and soil between the fibers. The 'dirty solution' is immediately extracted with the use of a powerful wet vacuuming system. This method does an excellent job extracting dirt and soil deep within the carpet fibers. It has also been found to be a very effective method in removing other contaminants. Studies have shown that hot water extraction can remove as much as 99 percent of the contaminants found in some neglected carpets. Many carpet manufacturers have begun to require hot water extraction as a term for their warranty. One disadvantage of this method, however, is that it requires a long drying time.

Carpet Cleaning with Shampoo
Shampooing involves rotary brushes that simultaneously spray a liquid cleaning solution into the carpet. The brushes agitates the carpet fibers and loosens the dirt and soil as well as foams the liquid. The foam is subsequently allowed to dry and later vacuumed up, with the dirt and soil trapped inside. This method has a shorter drying period than the hot water extraction.



Carpet Cleaning with a Combination of Hot Water Extraction and Shampoo
As the name implies, this method uses the Hot Water Extraction method and Shampoo. This method is especially effective for cleaning highly soiled carpets, with heavy oil/soil build-up. The process has two steps:
Shampoo using rotary brush to loosen soil
Hot Water Extraction using water rather than detergent solution to remove shampoo
Carpet Cleaning with Foams
This method is similar to shampooing except that the liquid is turned into foam before applying it to the carpet. Once applied, rotary brushes agitate it into the carpet and, like shampooing, the dried foam is vacuumed up along with the dirt and soil. This requires even less drying time than shampooing, but the denser, less wet foam may not encapsulate dirt deeper in the carpet.

Carpet Cleaning using Bonnet Cleaning
This is another method similar to 'Shampoo'. Bonnet cleaning employs an absorbent pad ('bonnet') attached to the bottom of a rotary machine. Detergent solution is sprayed onto the carpet ad the rotary pad is used to agitate and remove the soil suspended in the solution from the carpet. Once one side of the pad gets soiled, the sides can be reversed. And when both sides get soiled, the pad can be replaced and later cleaned. This method is used in the regular maintenance of commercial buildings.

Carpet Cleaning with Absorbent Dry Compound
In this method, a dry cleaning compound (usually a powder that has been soaked with a solvent chemical) is sprinkled over the carpet. A rotating brush is then used to force the dry compound into the carpet to come in contact with the dirt and soil. When the compound dries, the dirt and soil is stuck to the dry compound and can subsequently be vacuumed up. Like the Bonnet method, this technique does a good job of cleaning the top 1/3 of the carpet and also has the advantage of drying extremely quickly. The key to performing this method efficiently is to have a strong vacuum suction that is able to remove all of the chemical and the dirt and soil. Chemical not completely removed can cause future damage to the carpet.

In-Plant Carpet Cleaning
This type of Carpet Cleaning is ideal for specialized cleaning of loose or valuable rugs. The
rugs are sent through a duster which extracts soil more effectively than routine vacuuming. They
are then washed and hung to dry in a controlled air environment.

The Firm may also offer special service for repair of valuable rugs, using special equipment.

For a Free Estimate call us at 877-899-0401