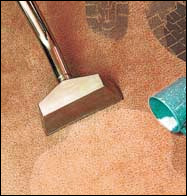 The lifetime of a rug can last from generation to generation, provided that you take care of it. Regular vacuuming will increase the life span of the rug, but it will not be enough to make it last for several decades. If you want to pass your rug down as an heirloom and keep it looking as beautiful as when you received it, you need to get it professionally cleaned at least once a year.

Our rug specialties include :

Rug Cleaning
Rug Repair / Rug Re-fringe
Rug Restoration
Rug Pet Stains and Odor Removal
Rug Hand Wash
Rug Antique Wash
Domestic or Hand Made Rugs Cleaning and Repair
RUG FREE PICK UP & DELIVERY

For a Free Estimate of your Rug Cleaning call us at:

877-899-0401



---
Our Rug Cleaning Methods:
The first step of our professional cleaning process is actually based off of the way rugs were cleaned years ago. "Rug dusting" is a term used to describe the removal of loose dust and dirt from rugs. Years ago, this was done with a carpet beater or other hard objects. However, physically beating the rug can be extremely damaging to the fibers. For this reason, we have removed the physical contact component and now use compressed air to gently lift the loose dirt and dust from the rug. This technique is just as effect and a lot safer than the older method.
We next prepare the rug to be washed. This entails verifying that the colors of the rug will not bleed if placed in water. If the rug will bleed color, then a color blocker is applied to protect your rug.
Following rug preparation, we gently place it into one of our fresh water baths. It is here that our well-trained professionals gently hand wash the rug using natural cleaners. A continues flow of fresh water sweeps the dirt and cleaners away with its current, leaving nothing but fresh water in your rug.
Some rugs may contain tenacious odors and require treatment in our decontamination bath. This process entails gently pressing the rug to force the odors out from the fibers. A free flowing current of fresh water sweeps these odors away and refills the fibers with fresh water.
The rug requires one more final rinse and then it's off to the drying room. This room has been specially equipped with climate control and a triple fanning system to dry your rug in the safest and most efficient manner possible. The drying position of the rug also allows our technicians to clean and pay more attention to restoring the natural beauty of the fringe.
After the rug has completely dried, it is gently removed and then meticulously inspected and groomed. The fresh and clean rug is now ready to be rolled and wrapped in a protective sheet that will prevent dirtying during transport. The last and final step is to deliver the beautiful, clean rug straight to your door and living room. We'll be happy to place it wherever you'd like.
Rug Cleaning Tips