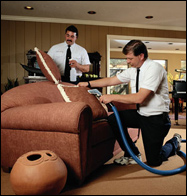 Most of the damage to rugs, upholestry, or carpet is caused by regular use and environmental factors. Unseen dirt and soil settle deep into the fibers of your carpet, rug, or upholestry and overtime will wear against the strands. This will cause the eventual deterioration of your rug or carpet.
To prevent this from happening, you should vacuum your carpet, rugs, and upholestry regularly (approximately 2-3 times a week depending on traffic and environmental factors). Regular vacuuming will help prevent surface dirt and soil from going deeper into the carpet pile. How do you get at the dirt and soil already starting to build deep in your carpets? Manufacturers and cleaning companies recommend that you get your rug, carpet, and upholestry professionally cleaned at least once a year. This will flush out any dirt that cursory surface cleaning can't affect.
In addition to regular maintenance, you also want to keep your carpet, rugs, and upholestry looking like new by avoiding spills and stains. However, sometimes this is avoildable, especially with kids and pets around. The key to preventing stains from setting is to attend to them immediately. Even stains can discolor stain-resistant carpet if left to sit over a period of time. Read the carpet, rug, and upholestry cleaning tips below to be prepared the next time a spill occurs in your home.
---
Carpet Stain Removal
The key to getting at stains is to act quickly before a spill spreads or dries. If the spill is was originally wet but is now dried, try remoistening stain with some water and letting it sit for 5 minutes. This will help resuspend the soil. However, be extremely careful not to overwet the area. This can cause discoloration of your fibers and may even loosen carpet glue.
For dry spills (such as ashes or dry cosmetics):
Adding any liquid to a normally dry substance, such as ashes, may cause a permanent
stain. Vacuum, beat the area with a ruler or similar implement, vacuum again, and then
use the adhesive side of masking tape to remove any residue. If residue remains, see the
stain removal guide below.
For liquid spills:
Blot lightly with a dry paper towel to start. Increase pressure and use a fresh paper
towel until no more liquid is absorbed. DO NOT RUB! If residue remains, see the stain
removal guide below.
For solid or semi-solid spills (such as foods):
Gently lift the substance from the upholstery with a spoon or dull knife, scraping carefully toward the center of the spill. Treat any wet residue as a liquid spill. If residue remains, see the stain removal guide below.
Check the manufacturer's label for any cleaning instructions and/or fabric cleaning code.
The following are the standard fabric cleaning codes used by furniture manufacturers.
Use these codes to determine what types of cleaning methods are appropriate for your fabric:
W - Use water-based cleaning agent
S - Use mild (water-free) cleaning solvent
WS - Use water-based cleaning agent, or use mild (water-free) cleaning solvent
X - Clean ONLY by vacuuming or light brushing
Always test water or a cleaning agent by applying to the same upholstery fabric on
a hidden area of the upholstered piece. Allow to dry completely, and then check its
effect on the fabric.
Apply water or a cleaning agent (as recommended in the stain removal guide) in small
doses to avoid spreading the stain or causing a ring. Be patient; apply several times,
blotting firmly with a dry paper towel to soak up the liquid after each application.
Never rub a fabric; rubbing could result in damage to the nap, loss of color, or
spreading of the stain.
Restore the nap on velvet by brushing gently before it dries.
To avoid water spotting, use a fan or cool blow dryer (on a cool setting) to accelerate
drying. Dry from the outer edge of the affected area toward the center.
If the stain persists, seek professional cleaning assistance

---
Rug Stain Removal
Rug stain removal is very similar to carpet stain removal. However, you need to be careful what detergents or cleaners you use on your rug. Rugs can be a lot more delicate and react differently with certain chemicals. Rugs also tend to have a lot more color and a larger variety of color than carpets. This increases the chance of color bleeding and the color reacting with the detergents or chemicals used. It's best to start out with only using water to remove the stain. Follow the same directions as you would with carpet stain removal. If this does not remove the stain, then try a mild detergent. Always test any detergent or chemical on a small corner of the rug. If the stain is still not removed, you may want to consider getting it professionally cleaned. This will save you time and effort and will also be safer than doing it yourself.
---
Upholstery Stain Removal

Again, stain removal for upholstery is similar to that of carpet. Avoid the use of dyes, paints, inks, nail polishes, and Mercurochrome around
your upholstery fabric, since these substances alter color and will stain immediately.
When stains occur, dilute with water. Do not soak the area. Work quickly; do not allow
stains to set. Blot from the edge of the spill towards the center using a clean
white paper towel or cloth. Avoid as much as possible rubbing the area or
pushing the stain further into the pile.

For semi-solid or solid spills use a spoon to scoop up as much as possible.
Allow to air dry or dry with a fan or hair dryer. Avoid excess heat if a hair
dryer is used. Once the area is dry, lightly brush the pile to restore its
texture. You never know when a spill will occur. To expedite the clean-up
please consider keeping the following items in a small kit for this purpose:
Clean white cloth
A soft bristle brush, like a clothes brush
Mild detergent, it must not contain bleach or alkaline
White vinegar
Dry cleaning fluid
Weak ammonia
Clean sponge
Alcohol
Glycerin